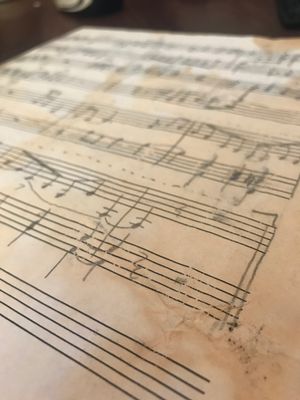 "From Beyond" (Complete & Re-Mastered) - CD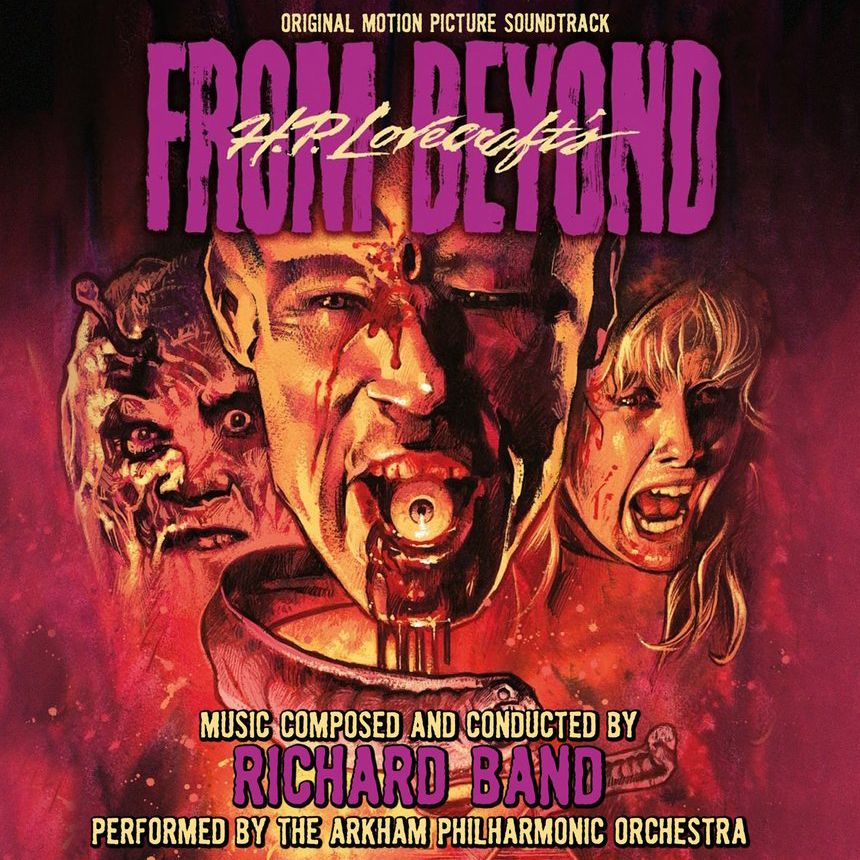 Music by Richard Band
Autographed by Richard Band
Reg. $21.95​​​​​​​
Label: Dragon's Domain - DDR716
Film Date: 1986
Album Date: 2020
Time: 64:09
Tracks: 22
FROM BEYOND (DD - COMPLETE)
Richard Band
CD - From Beyond (DD-Complete)
0:00/1:07

0:00/1:00

0:00/1:07

0:00/1:00

0:00/1:04

0:00/1:04
01. From Beyond Original Main Title 2:37 
02. Prologue: The Resonator 1:25 
03. "Something's Coming" 4:03 
04. From Beyond Main Title 2:11 
05. "We Saw Creatures 1:58 
06. Back to 666 Benevolent Street 
And Crawford Remembers 4:59 
07. "Pretty, Isn't She?" 1:06 
08. They'll All See and "Quite Enough" 4:38 
09. First Kiss and The Cellar (Revised) 4:05 
10. Katherine Suits Up 2:51 
11. Fuses Blow 0:59 
12. The Swarm 3:17 
13. Bubba's Death and Resonator Starts Up (Again) 3:48 
14. French Eye Kiss, Paramedics and Hospital Escape 6:13 
15. Return to the Resonator and Gland Eater 2:20 
16. Final Battle in the Beyond 4:46 
17. Katherine Survives, But... 1:30 
18. From Beyond End Credits 
(Original Version with 
Electronic Effects & Reverb) 2:32 
BONUS TRACKS 
19. Stingers and Such 1:07 
20. The Cellar (Original Version) 1:50 
21. Katherine's Dark Desires 1:24 
22. From Beyond End Credits (Film Edit) 3:33
Total Time: 64:09
Dragon's Domain Records presents a new release of FROM BEYOND, to be distributed through buysoundtrax.com. FROM BEYOND features music composed by Richard Band (RE-ANIMATOR, GHOST WARRIOR, TROLL) for the 1986 science fiction/adventure film directed by Stuart Gordon, adapted by Brian Yuzna from the short story by H.P. Lovecraft, starring Jeffrey Combs, Barbara Crampton, Ted Sorrel and Ken Foree. The music has been newly mixed and mastered from the original 24 hour track elements. 
Written in 1920, Lovecraft's short story is told from the first-person perspective of an unnamed narrator who is associated with scientist Crawford Tillinghast, who creates an electronic device that emits a resonance wave, allowing the experimenters to perceive planes of existence outside the scope of our accepted reality. When they turn this machine on, they not only perceive the horrific creatures that occupy a parallel dimension that overlaps their reality but Crawford then realizes that the effect works both ways, and allows the denizens of the alternate dimension to perceive and then feed upon those observing from our dimension. FROM BEYOND expands on Lovecraft's concepts beyond the original short story, developing a storyline true to its original author's intent and substance but developing into a modern story in which Tillinghast (Combs), here the assistant to the Resonator's inventor Dr. Pretorius (Sorel), is similarly accused of the scientist's murder when Pretorius is killed, by creatures from another dimension, Crawford insists, resulting in his immediate admittance to a mental hospital. After psychiatrist Katherine McMichaels (Crampton) and detective Bubba Brownlee (Foree) take the case, they escort Crawford back to the laboratory in an attempt to corroborate his account by re-creating the experiment. 
Composer Richard Band's career scoring films began in 1978 and is still going strong in 2020. His film-musical repertoire has largely consisted of science fiction and horror films. He had previously scored Stuart Gordon's RE-ANIMATOR, embracing a humorously affectionate nod toward Bernard Herrmann in his jaunty treatment of PSYCHO's main theme that fit Gordon's wildly farcical approach to Lovecraft's tale of Herbert Gordon West and his mistreatment of dead things. Band rejoined Gordon for the equally blood-splattered FROM BEYOND and went on to compose both CASTLE FREAK and DREAMS IN THE WITCH HOUSE, earning an Emmy nomination for his music for the latter. Band also composed Gordon's ambitious revision of Edgar Allan Poe's THE PIT AND THE PENDULUM in 1991. 
The score for FROM BEYOND was created with a mixture of early synthesizers and a small orchestra of around 40 string players and some percussion. Band made a point of combining the electronics with the orchestra in an integrated manner, rather than using orchestra and the electronics as separate entities. 
Richard Band was born in Los Angeles on December 28, 1953. He is the son of film producer-director-writer Albert Band (THE RED BADGE OF COURAGE – screen adaptation), brother to producer-distributor Charles Band and uncle to young rock star Alex Band of the rock group 'The Calling'. Shortly after his brother Charles had formed his first movie company, Richard decided to take a break from music and began to work as an assistant director on some of his films. He then went from assistant director to production manager, to associate producer and finally producer on over 13 films. Richard has since gone on to score over 75 feature films and many television productions including multiple episodes of STARGATE SG-1, WALKER: TEXAS RANGER and Disney's SING ME A STORY series. 
Richard has composed the music for more than 10 interactive computer/video games over the years and has had many soundtracks that have been released of his film works. Richard has also scored many documentaries including the award-winning series' MOST DECORATED, BRUTE FORCE and WEAPONS OF WAR and has also contributed much music to other series' like THE REAL WEST, CIVIL WAR JOURNALS and BIOGRAPHIES. His experience over the years has brought him to record over 22 film scores with internationally renowned orchestras such as THE ROYAL PHILHARMONIC ORCHESTRA, THE LONDON SYMPHONY and THE ROME PHILHARMONIC. He has also had his music recorded in Prague, Romania, Croatia and Munich. 
For this new release of Richard Band's FROM BEYOND, Dragon's Domain Records has gone back to the original 24-track master and had engineer Matt La Point completely remix the score from the ground up, under the supervision of composer Richard Band, digitally remastered by James Nelson at Digital Outland, including liner notes written by author Randall Larson, with the participation of the composer. In addition to the eighteen tracks that make up the score's track order, this new release of FROM BEYOND includes three bonus tracks. The goal on this one was to bring out a lot of detailing that had been obscured in the original mix and everything that came afterwards and also take advantage of advances in audio technology that have come out since the original Mix which greatly improved the score on a sonic level.