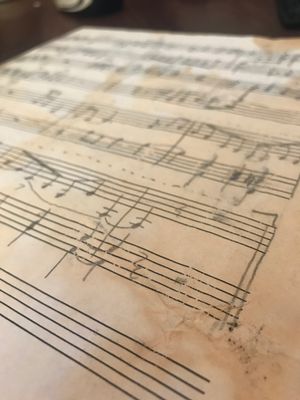 "From Beyond" Complete Score - CD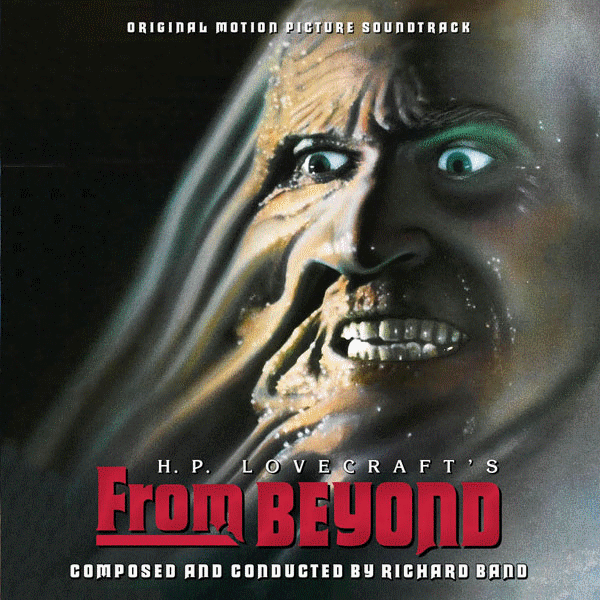 Music by Richard Band
Autographed by Richard Band
Reg. $21.95​​​​​​​
Label: Intrada Special Collection Volume ISC 378
Film Date: 1986
Album Date: 2017
Time: 57:45
Tracks: 27
From Beyond - Complete Score
Richard Band
CD - From Beyond (Complete Score - Intrada)
0:00/1:26

0:00/2:13

0:00/4:41

0:00/1:53

0:00/2:55

0:00/1:47

0:00/4:42

0:00/1:30
01. Resonator Works (1:24) 
02. No Control (4:03) 
03. From Beyond – Main Title (Revised #2) (2:12) 
04. We Saw Creatures (1:58) 
05. He's All Yours (1:16) 
06. Benevolent Street (2:38) 
07. More Axe (1:15) 
08. Pretty, Isn't She (1:02) 
09. They All See (4:40) 
10. First Kiss (2:25) 
11. In The Cellar (Revised) (1:53) 
12. Kathy Dresses Up (2:56) 
13. Fuses Blow (0:40) 
14. The Swarm (1:43) 
15. Bubba Dies (3:00) 
16. Resonator Starts Up (0:53) 
17. Kathy's Hospital Run (1:46) 
18. French Eye Kiss (2:47) 
19. Paramedics (1:51) 
20. Back To The Resonator (1:40) 
21. Gland Eater (0:44) 
22. Kathy's Freed (4:42) 
23. Soliloquy Tag (1:30) 
24. From Beyond – End Credits (3:32) 
Total Score Time: 52:57 
The Extras 
25. From Beyond – Main Title (Revised) (2:36) 
26. In The Cellar (Original) (1:49) 
27. Psycho Wild Stingers (0:10) 
Total Extras Time: 4:38
One of Richard Band's most popular and dynamic scores plays like never before! For the first time ever, Band's complete score to From Beyond appears, all newly mixed and mastered from the 2" 24-track session masters. In addition to cues not previously released, Intrada CD features stunningly detailed, crisp audio allowing every orchestrational detail to emerge.
Based on H.P. Lovecraft's frightening tale, Stuart Gordon directs, Albert & Charles Band with Brian Yuzna handle producing duties, Jeffrey Combs, Barbara Crampton, Ken Foree star. It's a success! The resonator works! Problem is, things work all too well. Soon monsters from another dimension are unlocked, via connections to the human pineal gland. Wild! Richard Band scores for a large contingent of strings (some 40 players) plus harp, piano, percussion and a multitude of electronic colors. His ideas are both eerie and disturbing, by turns cold and clinical on one hand, chilling and violent on the other.
Band recorded his score in early July 1986. For the first time ever, all additional cues from a later August pick-up session are included, featuring a variety of stingers, rapid string figures, cues such as "Kathy's Hospital Run", the gruesome "French Eye Kiss" stingers and the actual coda to the score itself as a climax to "Soliloquy Tag". Also being premiered is the important cue "Kathy Dresses Up", with its abundance of creepy arpeggio figures for harp and keyboards, rising and falling in sensual/eerie fashion as Kathy (Barbara Crampton) falls prey to the seductive side of the resonator. Band actually created three different main titles: one atmospheric version became the "End Credits", an aggressive rhythmic version was used as intended and another atmospheric albeit leaner version went completely unused. All three appear here in this CD. Two versions of the action sequence "In The Cellar" were also recorded and both appear on this CD as well. The film remains one of the prime favorites for cult horror film company Empire Pictures. Chock full of frightful creatures, chilling plot devices, gory mayhem and sexy undertones, From Beyond is a horror fan's delight. Richard Band provides colorful and dynamic orchestral music to match! Jack Smalley, Richard Band orchestrate, Richard Band conducts.