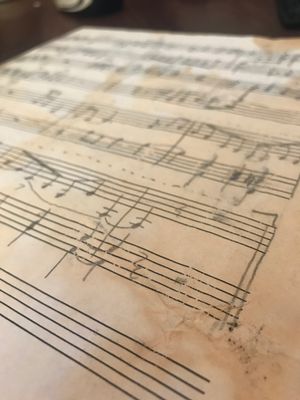 "Ghost Warrior" (Remastered) - CD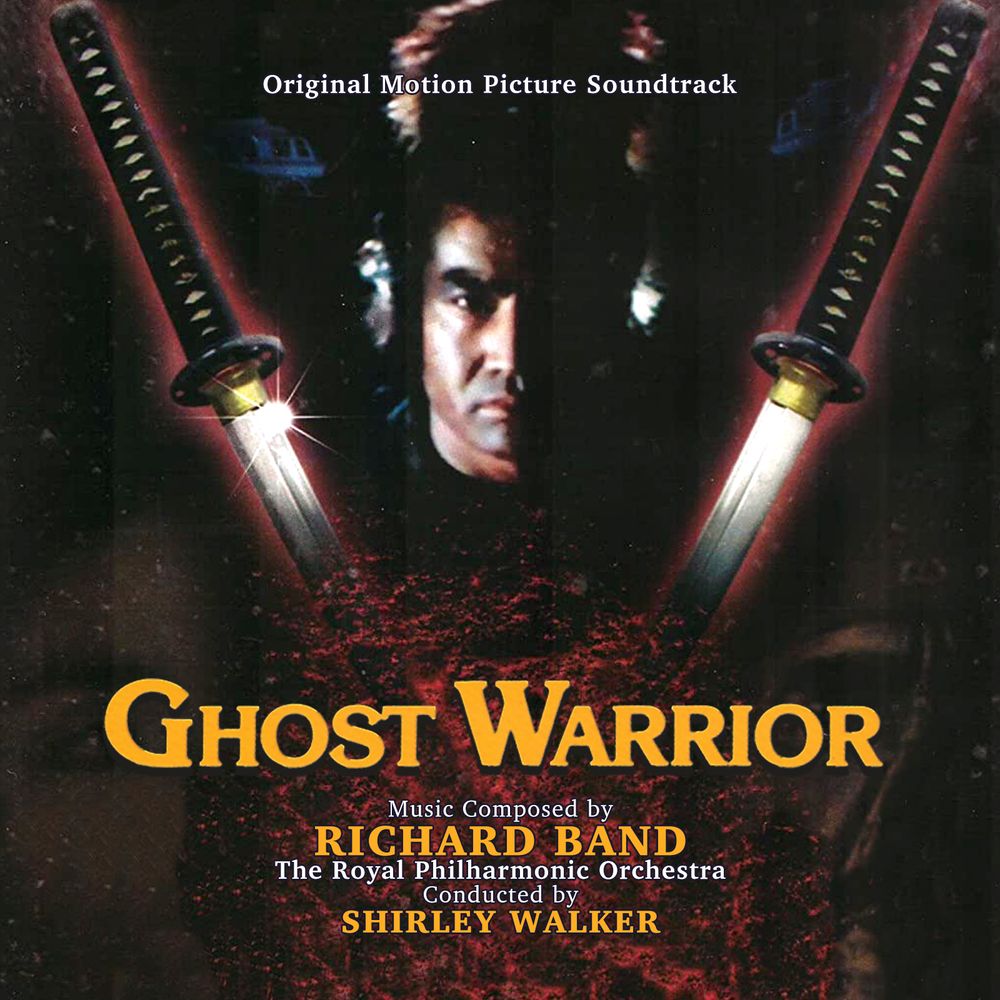 Music by Richard Band
Autographed by Richard Band
Reg. $21.95​​​​​​​
Label: DDR690
Film Date: 1986
Album Date: 2020
Time: 0:51:11
Tracks: 12
Ghost Warrior (Remastered)
Richard Band
CD - Ghost Warrior (Remastered)
0:00/1:08

0:00/1:14

0:00/1:14

0:00/1:00

0:00/0:59
01. Prologue (5:27) 
02. Yoshi Is Alive! (1:20) 
03. On The Move & Main Titles (4:07) 
04. Tormentors (8:52) 
05. Yoshi Sees Automobiles (1:20) 
06. Bright Lights, Big City (4:04) 
07. Johnny Follows Yoshi (2:20) 
08. Yoshi Remembers The Past (4:15) 
09. Human Antique (5:53) 
10. Yoshi Rescues Girl (4:08) 
11. Samurai Love Theme and End Credits (3:15)

BONUS TRACK
12. Ghost Warrior Suite (5:38)
Total Time: 51:11
Dragon's Domain Records presents a new release of GHOST WARRIOR, to be distributed through buysoundtrax.com. GHOST WARRIOR features music composed by Richard Band for the 1984 science fiction/action film directed by J. Larry Carroll, written by Tim Curnen, starring Hiroshi Fujioka, John Calvin, Janet Julian, Charles Lampkin, Frank Schuller and Robert Kino. 
Released in 1984, GHOST WARRIOR tells the story of Yoshimitsu, a renowned samurai in 16th Century Japan, who is wounded in a swordfight while trying to protect his wife from brigands. Yoshimitsu falls into an icy lake where he is quickly frozen. 432 years later his corpse is discovered in an ice cave and turned over to scientists in Los Angeles, who are hired to conduct an autopsy of the body. The team is led by Dr. Richards, who decides to try and revive the ancient corpse instead. Remarkably, the procedure is successful but Yoshi escapes when disturbed by a greedy security guard who tries to steal and pawn his katana sword. Fighting his way from the suburbs to downtown L.A., Yoshimitsu for all his mastery of swordplay and perception of Japanese culture circa 1552 is unable to comprehend 20th Century America, and can only defend himself at swordpoint after he runs afoul of a local street gang and, ultimately, the LAPD, leading to a tragic conclusion. 
The score for GHOST WARRIOR is a fusion of symphonic orchestral music, ethnic Japanese flutes and percussion, and an array of unusual percussion instruments invented and constructed by early 20th Century American composer Harry Partch (1901-1974). When Band got the assignment to score GHOST WARRIOR, he realized there was an opportunity to achieve something distinctive by combining ethnic Japanese instruments with the unique and versatile instruments of Partch. Band did some research on Partch's instruments at the UCLA library. His first challenge was in figuring out how to communicate to musicians playing these instruments who are used to reading normal sheet music. At the same time, Band discovered that the top percussion player in Los Angeles, Emil Richards, had been Partch's main disciple and had inherited all of Partch's instruments. The Harry Partch percussion instruments were recorded in Hollywood at Group IV, a recording studio that no longer exists. The orchestral portions of the score were later performed by the Royal Philharmonic Orchestra, conducted by Shirley Walker, who may have been the first woman to conduct the Royal Philharmonic for a film session. The end result is an expansive orchestral score that merges extremely unique percussive sounds with a richly symphonic melody structure accentuated by ethnic Japanese instruments. 
Richard Band was born in Los Angeles on December 28, 1953. He is the son of film producer-director-writer Albert Band (THE RED BADGE OF COURAGE – screen adaptation), brother to producer-distributor Charles Band and uncle to young rock star Alex Band of the rock group 'The Calling'. Shortly after his brother Charles had formed his first movie company, Richard decided to take a break from music and began to work as an assistant director on some of his films. He then went from assistant director to production manager, to associate producer and finally producer on over 13 films. Richard has since gone on to score over 75 feature films and many television productions including multiple episodes of STARGATE SG-1, WALKER: TEXAS RANGER and Disney's SING ME A STORY series. 
Richard has composed the music for more than 10 interactive computer/video games over the years and has had many soundtracks that have been released of his film works. Richard has also scored many documentaries including the award-winning series' MOST DECORATED, BRUTE FORCE and WEAPONS OF WAR and has also contributed much music to other series' like THE REAL WEST, CIVIL WAR JOURNALS and BIOGRAPHIES. His experience over the years has brought him to record over 22 film scores with internationally renowned orchestras such as THE ROYAL PHILHARMONIC ORCHESTRA, THE LONDON SYMPHONY and THE ROME PHILHARMONIC. He has also had his music recorded in Prague, Romania, Croatia and Munich. In more recent years, Richard has also enjoyed scoring a variety of family and comedy films for Viacom and Paramount Pictures as well as hundreds of animated vignettes for the WB kid's network all of which were scored with orchestra. His musical talents can also be heard on several amusement park rides including ALIENS - THE RIDE as well as several Vegas venues. Among the many interactive games Richard has scored the music for STAR TREK, WATERWORLD, CASPER, STONEKEEP, DECENT UNDER MOUNTAIN, CLAYFIGHTER and INVICTUS: THE SHADOW OF OLYMPUS. 
Dragon's Domain Records is excited to bring the soundtrack to GHOST WARRIOR back to the marketplace with the music freshly remixed by Matt LaPoint from the score's original 8-track masters, which the composer was only recently able to find, digitally remastered by James Nelson at Digital Outland, including liner notes written by author Randall Larson, with the participation of the composer. 
GHOST WARRIOR is a limited edition release of 500 units. GHOST WARRIOR is expected to begin shipping the week of May 4th, 2020 and can be ordered at www.buysoundtrax.com . The first 100 copies ordered trough the buysoundtrax.com website will be autographed by the composer at no extra charge.