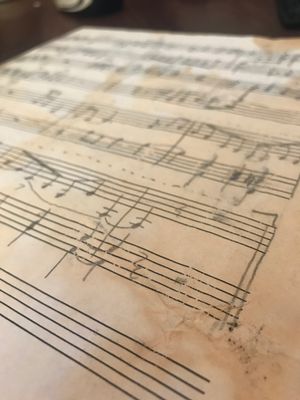 "Prehysteria!" - CD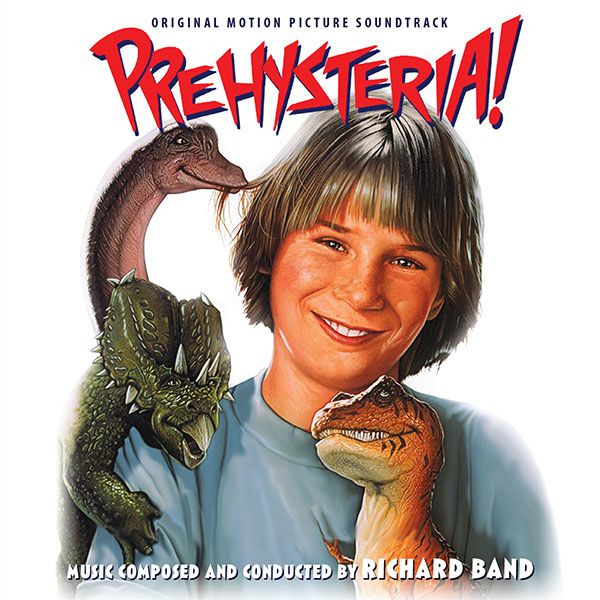 Music by Richard Band
Autographed by Richard Band
$21.95
Label: Intrada Special Collection Volume ISC 419
Film Date: 1993
Album Date: 2018
Time: 50:53
Tracks: 27
Prehysteria!
Richard Band
0:00/1:42

0:00/1:41

0:00/2:00

0:00/0:47

0:00/1:23

0:00/1:35

0:00/1:30

0:00/1:20
01. Main Title (3:17) 
02. Culebra Speaks (1:43) 
03. Monica Sneaks Out Of House (0:32) 
04. Sarno Finds Cave (2:34) 
05. Tale Of The Eggs (1:37) 
06. Sarno Says, "It's The Usual Price." (1:39) 
07. Where Are My Eggs? (1:09) 
08. Ruby Hatches Eggs (2:51) 
09. Jerry And Ruby Are With Dino (5:25) 
10. Sarno Grabs Whitey (1:17) 
11. Dinos Break Out (1:02) 
12. Kitchen Is A Disaster (1:51) 
13. Get These Dinos Out Of Here (1:31) 
14. Vicki Sees Dinos (2:27) 
15. Monica Snaps At Vicki (1:27) 
16. Sarno Pulls A Gun On Frank (3:14) 
17. Sarno Is On The Phone (1:12) 
18. Monica Talks About Her Mom (0:30) 
19. Monica Sneaks Out Again (0:56) 
20. Bad Guys Show Up At The Farm/Sarno Takes The Dinos (3:54) 
21. Eat, We Got Grapes To Pick (0:55) 
22. The Taylors Show Up (0:57) 
23. Whitey Helps Out (1:10) 
24. Ruby Is In The Cage (3:11) 
25. End Title (3:20) 
The Extras 
26. Eggs Start Moving (0:15) 
27. Pat Cools Down (0:05) 
Total Time: 50:53
Family-friendly soundtrack debut for a family-friendly film! Prehysteria! was the initial project from Full Moon Productions theatrically-aimed spinoff company, Moonbeam Entertainment, with Paramount Pictures then set to distribute, Charles Band producing, Charles and Albert Band directing. Austin O'Brien stars, David Allen Productions creates visual effects and Richard Band scores. Story centers around family of tiny dinosaurs living amongst their adopted human family. Humor, suspense and action all have their say. Modest budget afforded composer Band to augment his array of electronics with generous string section plus brass ensemble. Fun to realize this summer 1993 film arrived almost simultaneously with another dinosaur movie made on a much grander scale by much grander filmmakers!
For Prehysteria!, Band launched with jaunty main soprano sax theme in Lydian mode (prominent use of the raised 4th interval) over solid rhythm from low woodwinds, muted trombone. Strings, electronics swirl around and above. Suspenseful ideas for low strings, percussion illuminate initial cave exploration, egg discovery. Band keeps everything coherent courtesy snippets of his main theme and numerous brief Lydian mode motifs that recall opening material. Balance of playful and suspenseful material continues with warm new melodic idea in synths, still toying with Lydian harmonic vernacular during "Tale Of The Eggs".
All of these ideas work together until series of rich major chords usher in all-new ideas surrounding hatching of the eggs. Dinos enter and plethora of major-key motifs appear throughout several cues, leading to meld of both suspenseful earlier themes and playful new ones. Striking intense material enters into tonal world during "Sarno Pulls A Gun On Frank", lending score new colors with more serious intent.  "Bad Guys Show Up At The Farm/Sarno Takes The Dinos" is one of several highlights: Here Band develops his material in florid, energetic display of musical activity for the orchestra. "Ruby Is In The Cage" is another such highlight, with Band's warmer theme melding with the energetic material in a strongly emotional finish to the score proper, leading to a reprise of the opening music for the "End Title". Two very brief cues appear as extras. Orchestrations by Jack Smalley, Richard Band. Pat Siciliano, music supervisor. Score conducted and produced by Richard Band.