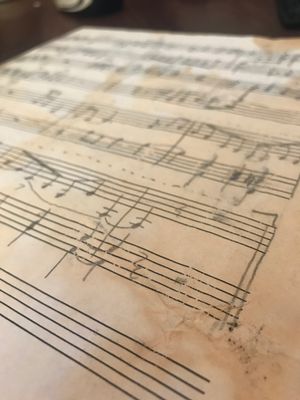 "The Arrival" - CD
Music by Richard Band
Autographed by Richard Band
$21.95​​​​​​​
Label: Intrada MAF 7032
Film Date: 1992
Album Date: 1992
Time: 0:40:21
Tracks: 15
0:00/2:27

0:00/1:44

0:00/3:09

0:00/1:33

0:00/1:41

0:00/2:41

0:00/2:40
01. Main Title (2:25) 
02. The Meteor (1:42) 
03. At The Hospital / Dream Visions (3:37) 
04. Max Leaves The Hospital, But... (2:15) 
05. Max Wanders Off (3:07) 
06. The Changes Begin (1:31) 
07. Max, But A Lot Younger (1:41) 
08. The Bar (2:44) 
09. Max Kills The Bar Girl (3:17) 
10. Max And Lonnie Montage (3:05) 
11. The Love Scene (1:53) 
12. Max Takes A Hostage (2:40) 
13. No Alternative (1:38) 
14. Chase Down (2:40) 
15. Finale And End Titles (6:06)
Total Time: 40:21
The Film 
The Arrival is a 1991 American science fiction horror film directed by David Schmoeller. The film is about an alien who after a crash landing, enters the body of the elderly and near death Max Page (Robert Sampson). Page's health returns to him but he soon finds that he has a thirst for the estrogen-laced blood of ovulating women. 
The Music 
Richard supplies a very melodic score for this horror film.  The horror genre does not always allow composers the opportunity to write melodic material. This project afforded Richard the opportunity to develop themes that helped support the onscreen narrative, emotional overtones and character development. 
Using a small ensemble combination of synthesizer's, strings and percussion, Richard creates an ambient soundscape that is eerie, brooding, mysterious with a bit of romance. An array of percussion instruments are used to create frightening effects and rhythm while the strings deliver atonal drones, all creating tension and mystique. 
The score becomes more action oriented as the film reaches its climax. The music reflects the change in pace and tone. More rhythmic passages create the necessary tempo for the chase scenes while dissonant synth washes of various sounds maintain the "alien" element of the story. 
The score culminates into a bittersweet moment. The romantic theme gets to develop into its fullest form over the End Credits of the film.